Being a parent can be one of the most stressful and worrisome jobs on the planet! Just keeping them physically safe is a huge task, but when you consider their emotional and spiritual well-being too, some days it can feel too much. One of the ways to truly influence our children's spiritual lives, a way that is not only instruction from the Bible (Deuteronomy 6:7) but also professionally documented to be effective, is to share our Christian faith with our children in all facets of our day. By The Way Book Series has provided a great way to do just that! We were given a copy of the book Colorado ~ By The Way to read and review, which gave us a chance to explore deeper one of our favorite places!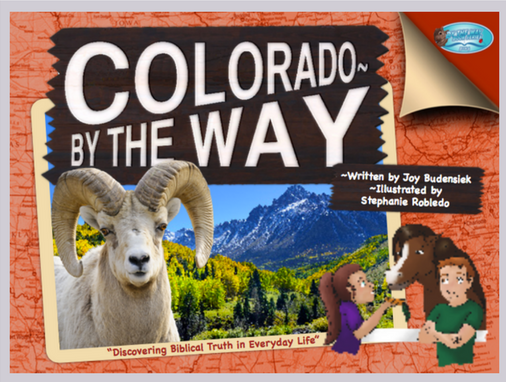 Author Joy Budensiek has created a series of books where a particular geographical region or state is highlighted through the lens of scripture and God's creation. Each book is a story book that also contains interesting facts about wildlife, history, weather, and popular visitor attractions. These books are hard back books of 50 pages with fun illustrations of the story's characters and great photos of the animals and places they visit. The author's goal is write 100 books, beginning with all 50 states and spreading out from there! In addition to Colorado, she has already published Ohio State, Pennsylvania State, Smokey Mountains, Treasure Coast, and Washington State. New York City, Ireland, Idaho, and Indiana are due to come out some time in 2017.
Mr. Butler and I love Colorado and have vacationed there before kids and later with kids so of course it would be my first choice in something like this! We had fun pointing out places we had been and learning about some new ones too. While this book is and should be classified as a story book, we didn't feel compelled to treat it like one all the time. There is a story with specific characters who travel around experiencing the nature, landscape and sites of Colorado and their experiences certainly enhance a child's understanding of some of the information. However, it could also be used like an encyclopedia or informational stepping off point. It is 50 pages long with a lot of dialogue and information so finishing it in one setting before bedtime might be daunting for some attention spans. Still, with all of the pictures and scriptures, it is easy to pick a few and have a great learning experience and discussion using only those. Either way, our experience certainly fulfilled By the Way Book Series' intent of 'discovering Biblical truth in every day life.'
Whether you are looking for a supplemental resource for geography and state history or simply could use a great method to connect with your kids through nature and a Biblical worldview, By the Way Book Series is certainly worth adding to your book shelf.
Follow By the Way on Social Media:
Facebook: https://www.facebook.com/bythewaybooks/?fref=ts
Like I mentioned above, they have published several other books and my crew friends are reviewing those too! Check out what they thought about other states' books as well by following the link below: