I haven't been reviewing products for all that long (about to close out year 2), but I love getting to see a product develop and flourish over time. The Pencil Grip, Inc. is back with more colors and a bigger collection in the form of the Thin Stix Creativity Pack. Every time we review for The Pencil Grip, Inc. it's like we get a creativity shot in the arm. The kids start doing one thing, but then end up with more ideas as time goes along. This review is no different. Miss Z started with a picture of her dad putting her in a headlock with very colorful furniture and then suddenly we were all making Pilgrim hats and Squanto headbands!
This new creativity set we received includes 24 Thin Stix - 12 Classic colors, 6 Neon colors and 6 Metalix colors. This collection of colors is a well-rounded assortment that facilitates just about anything you can think of. And there is something about having a lot of color options that is exciting! When this set came in the mail, I never once had to offer it up as a suggestion for something the kids could/should do. It was a go-to activity all on its own for a couple of weeks.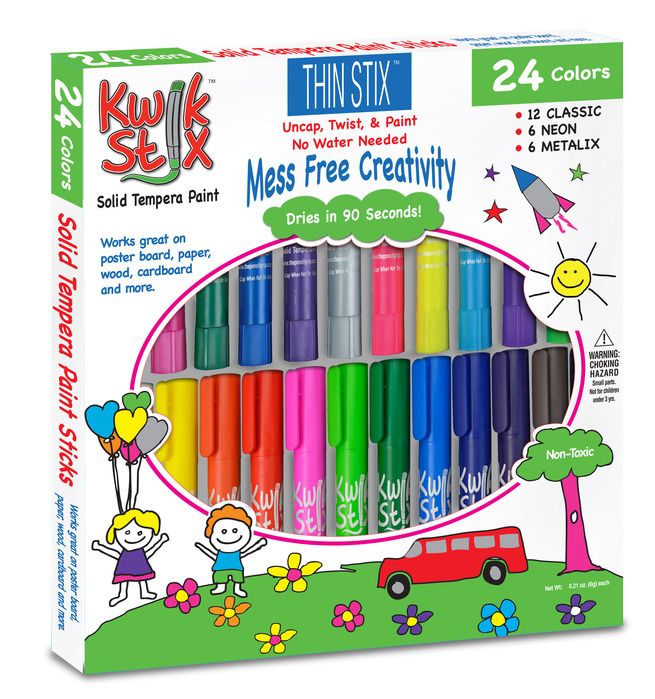 The fantastic quality of this product that I first fell in love with is the tempera paint effect without a mess. This makes parents happy! Of course my kids are a fan because they are allowed to run wild with it, so to speak. With the introduction of the Thin Stix - that feel in the hand more like a marker or highlighter - adults are more comfortable using them. One of my favorite creative activities besides writing is painting. As a stress reliever, as a creativity enhancer, painting for process is very freeing to me. I know I'm not skilled at actually creating life forms so it is 100% play. And as we all know, play is far more important than we give it credit for - even in adults! By now maybe you already own a set of Kwik Stix, but I'm thinking these would be a easy, cheap gift for your favorite college student, crafty adult, or stressed out friend in need of a stress-reliever!
Did I mention how much of a mess is NOT made when we use these? One of the kids used a brown clipboard to hold their paper and when they were finished there was paint all over it. The said child went and got a wet rag to clean it up. With almost no scrubbing, the clipboard looked good as new! This is mess-free painting at it's best!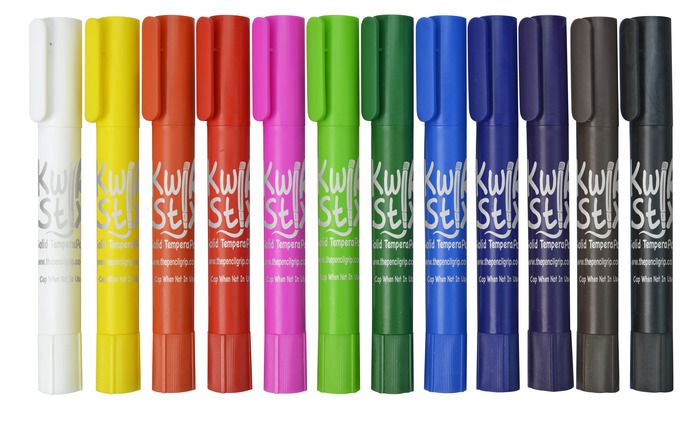 Keep Up With Social Media Links for The Pencil Grip:
Facebook:
https://www.facebook.com/thepencilgrip/
Twitter:
https://twitter.com/thepencilgrip
@thepencilgrip
Pinterest:
https://www.pinterest.com/thepencilgrip/
The Thin Stix Creativity Pack, like all of their other Kwik Stix products, is so versatile that the possibilities of uses are endless. Check out all the other projects these were used on through the link below: