One of the comments I often hear from non-homeschool parents when the topic of homeschooling comes up is "I just wouldn't be good at it." The trouble with that statement isn't regarding it's truth, but the big fat assumption it is based upon. Most homeschooling parents didn't choose to do so because they were going to be so good at it! As much as our kids are learning, we as parents are learning right along with them. That's why
Homeschool Rescue
from
Only Passionate Curiosity
was created and why reviewing it this month for the Review Crew has been such a blessing! No homeschool runs smoothly from beginning to end and often there are times in life when we get off track, especially in our homeschool. At the end of the day, we're all having to learn how to do this. Homeschool Rescue is a much needed reset or focusing tool whether you have years under your belt or are just beginning to homeschool.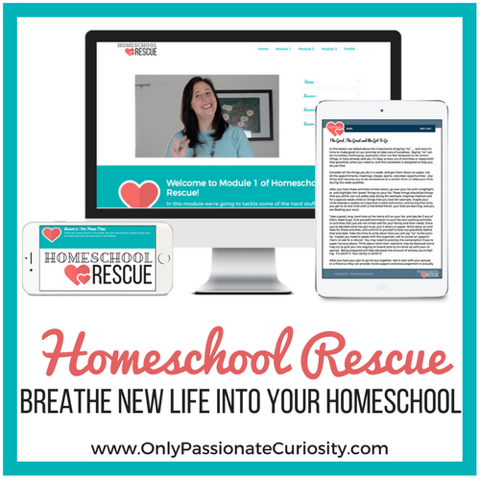 What is Homeschool Rescue?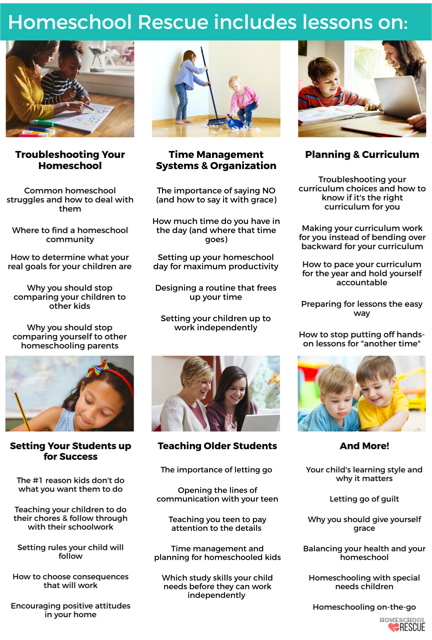 How I'm Using It:
As you know, I just had a baby a few weeks ago and his pregnancy before that was pretty wearing on me this time around. My little homeschool has morphed and collided with life events several times and now with 2nd grade and kindergarten on the horizon in the fall, everything is pretty disjointed. With a newborn and all of us suffering from changes, I would have a difficult time evening knowing what needs to be improved without just caving and saying all of it! What Homeschool Rescue has offered me is a self-paced boot camp for my homeschool and household management. The worksheets (like A Dream For My Child and homework gave me the opportunity to put into words my desires and expectations for my homeschool and let it dictate my priorities, rather than what I believed to be everyone else's expectations. The specific challenges that I'm facing -like teaching more than one child and time management issues- are all addressed and with lifetime access, I can revisit anything as much as I need. With my sleep being quite disrupted, revisiting things several times is a way of life for now!
The entire program has a storehouse of practical help and resources, but what I found the most helpful was all the different ways it communicated that my homeschool, with its challenges and strengths, is normal. Struggling, worrying and celebrating along the way is common and in most cases downright healthy. There is no perfect homeschool and the need to revamp and revive it is normal and healthy. I see revisiting Homeschool Rescue at least yearly to note what needs to shift and change.
Is It For You?
Are you inspired by the concept of homeschooling, but sometimes fall short in the doing? Have you been homeschooling for a while and are just about ready to throw in the towel? Have life circumstances drastically changed what your school even can look like? Wherever you are on this spectrum, sitting down and reevaluating things will be so useful to enhancing your homeschool and your management of things.