Get ready to add something new to your must-have list in every home, classroom, and kid art studio! The Pencil Grip, Inc. is known for line of grips and other educational therapeutic products and now they have added a product you will most certainly use in your home! I am typically more of a low-key person when it comes to new things, but this is one of the coolest things I've ever used. Tempera painting is super fun for children and adults alike and a great part of any art curriculum. The trouble is the mess. Even as adults you just can't get around it sometimes. Kwik Stix Solid Tempera Paint from The Pencil Grip, Inc. is the perfect compromise.
For this review
The Pencil Grip, Inc
. sent us a
Kwik Stix 12 pk
, but also generously threw in their signature product,
a pencil grip
and an extra dark blue kwik stick! At first glance the Kwik Stix simply look like colored glue sticks and work the same with a removable cap and twist-able bottom for more thickness of paint. The magical part is how quickly they dry with a tempera paint-like finish. They look and feel slightly sticky going on in the way lipstick might feel on paper, but literally in seconds it is dry to the touch. The label claims it is dry in 90 seconds, but for most pictures it didn't even require a third of that time. Not only does that mean easy clean up and no messy hands, but you can stack or file all of the artwork almost immediately.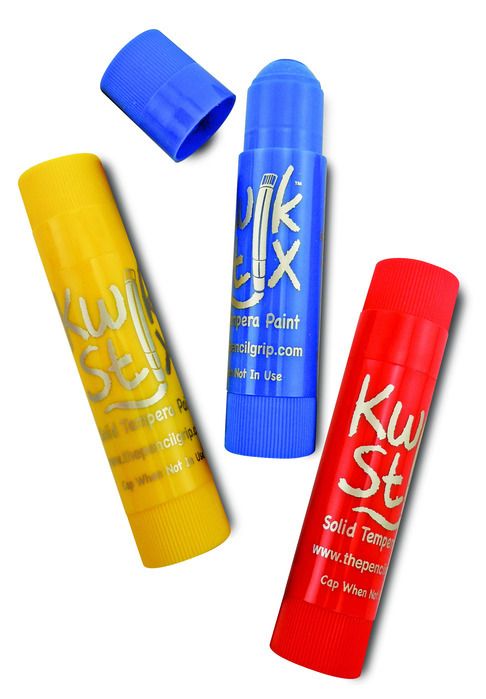 Our 12 pack has given us a great variety of colors and my family (including Mr. Butler) has used them a lot with no sign of running low, but they do come in packages of 6, 12, and a classroom pack of 96 with a neon or metallic set as well. We found these paints to be a fantastic asset that both my 5 year old and 2 year old loved equally, along with several adults that tried them being highly intrigued. I'm sure these could fall into the same category with adult coloring books as things we would all enjoy spending more time than we should with. As much as I adore my kids being creative, every time painting is mentioned, I wince a little bit just because it requires so much supervision and clean up at their age. With Kwik Stix - and I know I'm going to sound like a commercial here but it's the truth - all I have to do is tell J to go get some paper and the sticks. Supervision and clean up is minimal! I can focus on something else with no pang of concern!