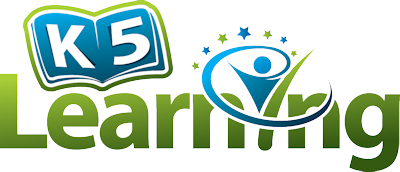 It is officially Summer and as a parent you might be thinking about where your kids are academically and where you want them to be when Fall hits. Would your child benefit from some extra math and reading practice? How about some spelling and vocabulary help? Could you use some help getting them there? Over the last month or two we've had the great opportunity to try out
K5 Learning
, an
online supplemental math and reading program
designed to provide both entertaining and educational lessons to students at home. With my eventful pregnancy and my little race car's explosion into the world, our homeschool didn't exactly stay on track. K5 Learning has been a fantastic online tool to fill in some gaps along the way.
Phonemic Awareness
Phonics
Sight Words
Vocabulary
Reading Comprehension
Numbers & Operations
Measurement
Geometry
Data Analysis
Algebraic Thinking
K5 Spelling includes:
Adaptive instruction
Optimized visual interface
150,000 word database
How It Works:
K5 Learning first provides an assessment for math and reading in Kindergarten through Grade 5. Students can then begin personalized lessons and custom worksheets at their current skill level, allowing for online and written interaction.
Subscriptions are monthly or annual and allows for up to 4 students per account.
Created with busy parents in mind, this program allows the student to work independently on target area lessons until they are mastered and then provides a report to the parents all along the way. The sequence of online lessons is controlled by the system so students can't spend all their time on one game and neglect others. The program's award-winning software provides full instruction which makes it possible for kids to learn a new concept as well as practice familiar ones.
K5 Learning is also recommended for Special Needs and ESL learners due to its individualized, self-paced design and research-based curriculum that meets national standards.
How We Used It:


I had J take both assessments right away which was easy and provided good information to know anyway. From there he would start wherever the program started him, which was based on the initial assessment. The online engagement was impressive and the corresponding worksheets allowed for a good hands-on reinforcement J enjoyed the short lessons and the creative ways they spent time explaining a concept. At one point he was working on adding three numbers and immediately balked saying it was too hard. I talked him through it and in a few minutes couldn't stop saying how easy it was. This program seems to progress incrementally in such a way that really cannot overwhelm a student for very long. It has a great mix of instruction and games that don't ever seem to repeat in nature.
This supplemental program can be used throughout the school year as extra practice and filling in gaps or over the summer break to keep their skills up. Regardless of the time of year, K5 Learning is a great insurance policy when life doesn't go according to our plan!
Keep Up with K5 Learning on Social Media: