We have a surprising amount of friends (that we had prior to having kids) who are homeschooling their kids. We also have a lot of friends who aren't. To those who don't, the hows and whys of homeschooling are often a mystery. In so many parents' mind there is the thought that "I could never do that." which can also mean "I don't ever want to do that." Having done it a couple of years now, I do understand the challenge it is for some parents to even consider such a task as homeschooling. For the parents who might want to, but feel clueless or the parents who think homeschooling is impossible for them, I recommend this video course from Apologia Educational Ministries entitled How to Homeschool with Stunning Confidence, Contagious Joy, and Amazing Focus. I may be still be young in this homeschooling journey, but through reviewing this course I've seen how important it is to share and learn from our collective homeschooling experiences. No two homeschools will look alike and every one has some wisdom to share.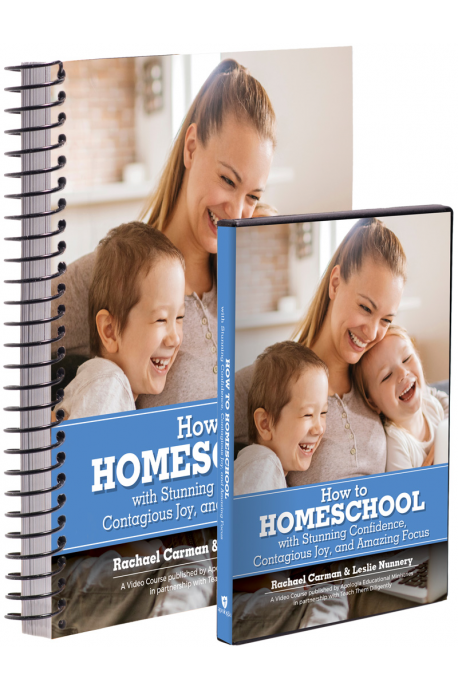 What Is It?
How to Homeschool is a video course designed to support homeschooling families (and those who would like to be) find success and fulfillment no matter how far you are into the process. This course comes with 2 DVDs containing 15 short sessions with Rachael Carman and Leslie Nunnery talking about their myriad of homeschooling experiences and a 70 page book that complements the video conversations, details the personal assignments and provides space for note taking. The video sessions include topics such as goal setting, curriculum, organization, marriage, graduation, college and everything in between.
Who Is It For?
This course is perfect for someone who has never homeschooled before! It might be even more useful to families who have already begun schooling at home, but feel quite overwhelmed.
How Much Time Does It Require?
Each video session is less than 15 minutes and each corresponding chapter in the book isn't more than a couple of pages of reading. Most chapters have a personal assignment at the end for you to complete, sometimes with the help of your spouse. Knowing that growing families don't have buckets of free time just lying around, the course was designed to be digested in small chunks. Depending on your needs, it could be very reasonable to spread it out to one chapter a week or for an intensive approach, take 3-4 hours on a Saturday and complete the entire thing. Either way would prove beneficial. The assignments especially are something that you could revisit every year to reevaluate your purpose in homeschooling, the students' needs and circumstances in order to best serve the homeschooling unit.
One misconception about homeschooling that still gets stuck in our heads even after we know better is that it is just going to be easy and if we hit opposition of any kind, then it probably isn't for us. One of the things this course highlights directly is the various struggles you likely will have at one point or another. You probably WILL have family that don't understand your choice. You probably WILL have to switch curriculum at some point because it isn't a good fit. Homeschooling WILL affect your marriage and vice versa. These are realities that need to be addressed eventually and this course does a good job in preparing you for the best way to walk through it.
Much like childbirth or becoming a mother, the best way to succeed is to seek out others with varying experiences to equip you with wisdom. Despite how easy it is to believe that no one has ever experienced the difficulties you are facing in homeschooling, the truth is you are not alone or unique in your worries or hesitations. These video sessions are just like having a cup of coffee with some experienced friends and that is something we could all use from time to time!