Now that we have a chapter book reader in the house, getting new books at the library can sometimes be complicated. Some books I've heard of or even read, but a lot of them I haven't and don't always know if they are age appropriate for my 6 year old. Thankfully, there are some great books out there, if you know where to look! Last month, we received two books from Kregel Publications that were written by Susan K. Marlow to review. Andi Saddles Up and Andi Under the Big Top are the first two books in the Circle C Stepping Stones series, with 4 more books coming out over the next year and a half.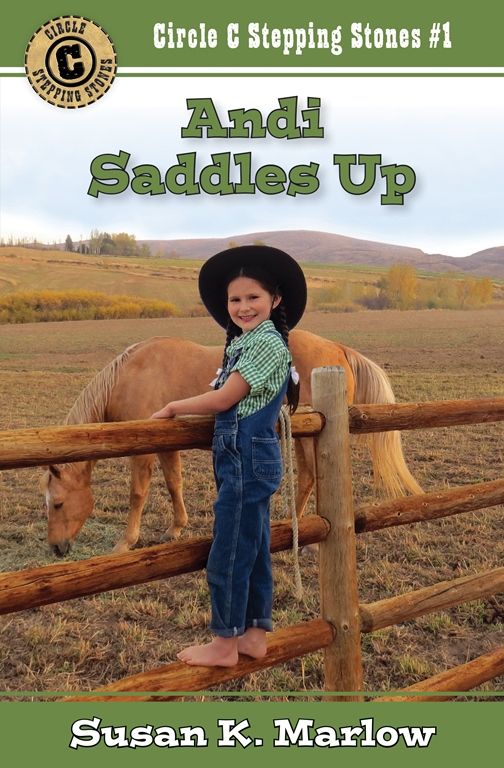 The books are set in 1887 on the Circle C Ranch following 9 year old Andi Carter and her adventures. Her horse Taffy is certainly a main character and one of the things my son was most excited about. He loves horses - has since he could talk - and has recently been enthralled with chapter books that have horses in them. Needless to say, he didn't have a problem getting motivated to read. A great element too is the various character building lessons that are sneak in as the stories play out. As a parent, I love knowing that the reading my son is doing isn't just enhancing his mind, but also giving his heart a greater store of empathy and understanding to pull from as he gets older.
The intended audience is boys and girls ages 7-10 that are ready for chapter books with longer chapters and deeper story lines. J has really taken off with reading so these books were perfect for him to read on his own. Still, they would be great read aloud books as well, especially when used with the various activities. A really unique element of this series is the supplemental resources that are available to enhance their use, if desired. Along with the first two books, there are free coloring pages, free activity pages, schedule of suggested activities and printed activity books and lapbooks available for purchase. From a teaching perspective, the activity pages were fantastic! There was vocabulary building, story elements, comprehension, history, mazes, hands on activities and a great jumping off point for so many discussions! Each book could be turned into an entire unit study if you wanted. Depending on what other topics you are covering, the possibilities of incorporating different aspects together really are endless!
Our experience with these first two books was great! What is just as exciting to me is to find out that this series is actually one of three! Also by Susan K. Marlow is
Circle C Beginnings
,
Circle C Adventures
, and
Circle C Milestones
, all following different times of Andi Carter's life. This discovery can certainly enhance my homeschool curriculum, but give my budding readers lots of options as well!
Keep up with Susan K. Marlow and Kregel Books on Social Media: